Thanks to everyone who came out last night, we really did light up Vancouver!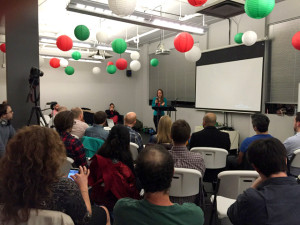 As the awesomers completed their pitches, and the awesomites prepared their voting cards, a debate quickly began that we just couldn't say no to a teacher who needed funds to bring her class to a local museum. We decided to move to a separate room to discuss further.
There was another pitch that stole the show though, however we wanted to help her out.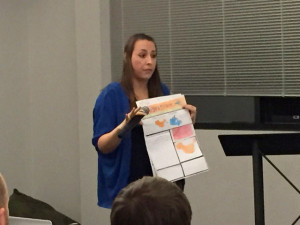 Thanks to a kick start from Ian, in less than 10 minutes the awesomites threw together a new pot of $500 for Elissa Zaklan's Field trip for class to museum pitch. We couldn't just leave it at that though, we decided this special prize needed a name, which we affectionately titled the "Liberal Guilt Award". We're not sure how Elissa will let her elementary school know she received funding from the Liberal Guilt Award and Awesome Shit Club, but it should make for an amusing story.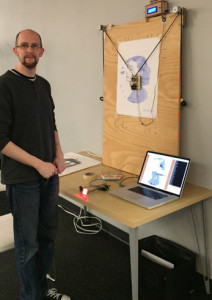 Once that was settled, we moved to our regularly scheduled vote tallying.
Just before we got to the winners, it was mentioned that Zee Kesler's project could use some website improvement to replace their free solution, so One Day Website offered her a complete website package with hosting for a year. This wasn't the first time a website package has been offered, so they're still the second highest scoring organizational contributor.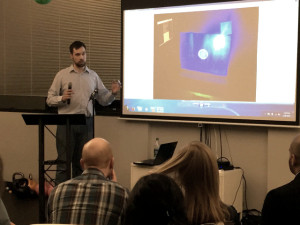 While we were all really impressed with the submissions, in the end the winner was announced: Freddie Heartline of Decentral Vancouver won with the submission, "The Magic Sidewalk Lightshow," which he said we should see some results within a month. He won the $550 pot of cold hard cash!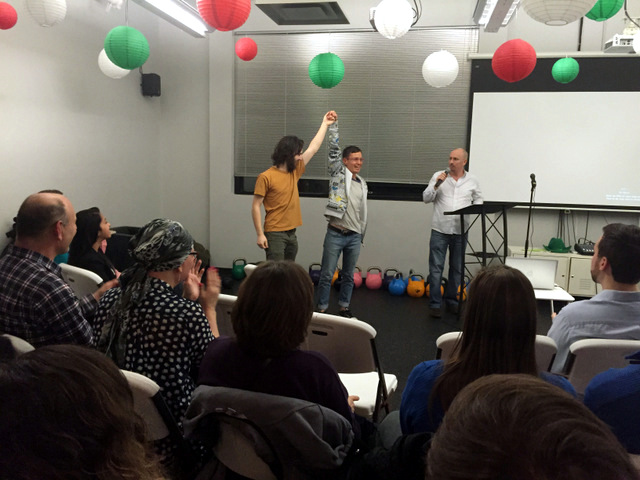 The generosity didn't end there, though, since Ed Levinson matched the pot, with a cheque of $550 of his own! That escalated him to the highest score individual contributor of ASC ever!
If you're keeping track, $1600 of cold hard cash was given out last night for great ideas, with no strings attached!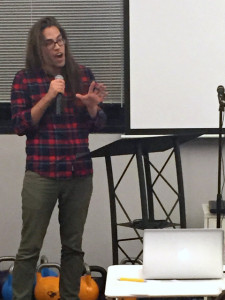 Thanks to all of our awesomers who braved the 5 minute pitch!
The Magic Sidewalk Lightshow – Freddy Heartline
Fog Screen – Jordan Randa
Field trip for class to museum – Elissa Zaklan
Low-tech, low budget, comical adaptation of The Odyssey – Wes Lord
Connect local businesses to provide students garbage for art – Miya Zhang
Calendaring system for graphics render farm – Simon Devenish

Miya Zhang presenting Connect local businesses to provide students garbage for art
The generosity of the Awesomites keeps this event alive. A big thank you to: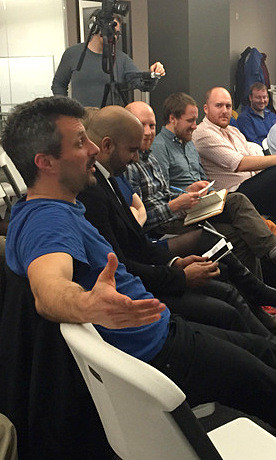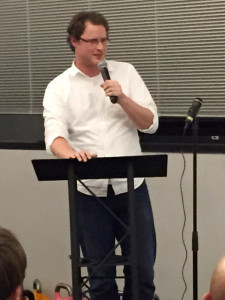 A special thanks to my gracious co-host and security, Cimarron.
Lastly, thank you to our friends Dan and Yana at Mobify!  The space provided was a perfect venue.
If you want to receive an email when we announce our next event, subscribe to our email list using the form under our logo!
Thanks again, and stay awesome,